FIGHT FOR A TITLE OF OLYBET CASINO CHAMPION!

Prize pool 10,000€!
Play our online Casino this summer and become a Champion!
Earn points to get to the top of leaderboard and win the Champion's title along with generous cash award.
For every 20€ wagered in online casino you earn 1 point to Championship leaderboard.
50 TOP players will get prizes on the final date 31.07.2020!
Choose preferable bet level and win cash or free spins in you preferred group:


1

1st Place: 500€
2nd Place: 250€
3rd Place: 50€
4-20th Place: 5€
21-50th Place: 20 FREE SPINS

2

1st Place: 1000€
2nd Place: 500€
3rd Place: 100€
4-20th Place: 10€
21-50th Place: 40 FREE SPINS

3

1st Place: 2500€
2nd Place: 1250€
3rd Place: 250€
4-20th Place: 25€
21-50th Place: 100 FREE SPINS
In addition, you have a chance to win short-distance prizes in weekly raffles.

Every week on Friday we will raffle 45 cash prizes among all participants:
Low level: 15 x 5€ cash prizes
Medium level: 15 x 10€ cash prizes
High level: 15 x 25€ cash prizes

Championship Leaderboard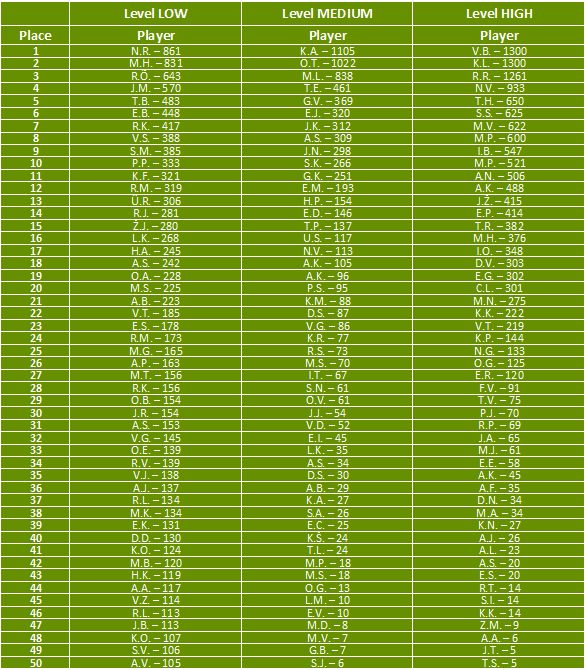 Table is updated every working day. Last updated 09.07.2020 at 11:50


To see earned points count you should be logged in.
Points counter is updated every working day and contains data up to the day before.
Terms and Conditions